Conventions and Gatherings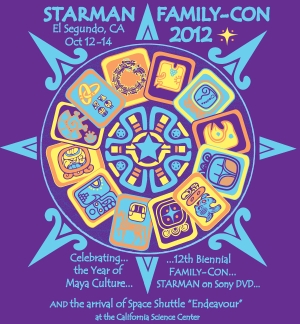 STARMAN FAMILY-CON International Conventions
Since the first one in 1990, STARMAN FAMILY-CONs are held in even-numbered years and are "Family Reunions" of those who created/appreciate the STARMAN movie and series. These are regularly attended by the principal actors, guest actors, producers, writers and members of the production staff and crew. (We refer to STARMAN's cast, crew and staff as StarStaffers.) Featuring commemorative convention T-shirts, Reunion Party with the cast and crew, Charity Auction, informal "Starmanizing" in the hospitality suite, plus other special events, including BookNight (celebrating the work of authors, editors, illustrators and publishers among StarStaffers and Spotlighters). Each FAMILY-CON offers a distinctive T-shirt commemorating the events.
STARMAN FAMILY-CON 2014 Please join us! September 26-28 in El Segundo, CA (one mile south of Los Angeles International Airport). Open to all who appreciate and/or helped create STARMAN, but you must be enrolled: Contact Vicki Werkley at or (707) 995-1228 (Northern CA). We expect attendance by numerous StarStaffers, especially at the 13th biennial "Family Reunion Party" on Saturday 09/27/14 and the 9th biennial BookNight on Sunday 09/28/14. Sunday will also include our traditional Charity Auction. Our events are informal, family-oriented and strive to be affordable for all. For more specific SFC details, contact Vicki.
For some highlights of past SFCs, read on....

STARMAN FAMILY-CON 2012 occurred on October 12-14 in El Segundo, CA. The 2012 themes celebrated the year of Maya culture. It was attended by several StarStaffers, especially at the 12th biennial "Family Reunion Party" on Saturday 10/13/12 and the 8th biennial BookNight on Sunday 10/14/12. The 2012 shirt is pictured at the top of this page. The official colors of the convention were Eggplant and Azul Maya.

STARMAN FAMILY-CON 2010 occurred on October 8-10 in El Segundo, CA. The 2010 themes celebrated Episode #18 "The Wedding" and "Twenty Years of FAMILY-CONs." Our 11th biennial "Family Reunion Party" and 7th biennial BookNight were attended by several StarStaffers. This year saw attendees from Germany, Lithuania, Canada and Japan, as well as all over the U.S.! Commemorative T-shirts printed in three colors on Sky (blue), Pistachio (green) and Azalea (rose pink) may still be available. For more specific SFC details, contact Vicki, as above.

STARMAN FAMILY-CON 2008 occurred on October 10-12 in El Segundo, CA. The 2008 themes celebrated "International Year of Planet Earth" and "The Return of the El Segundo Blue Butterfly" (an endangered species). Celebrities who attended included -- [from the cast] Robert Hays (Starman/Paul Forrester), Patrick Culliton (Agent Wylie), Michael Cavanaugh (Agent George Fox) and Stephanie Rose (Stand-in for whole series; "Pizza Lady" in Episode #12; "Fox's Nurse" in Episode #21 ) [from the staff] Mike Gray (Producer/Writer/Director) and Jim Dennett (Unit Production Manager); [from the crew] Joe Adamson (Second Assistant Director), Dick DeSantis (Grip), Bobby Cardillo (Greensman) and his wife Pamela, David DeCamp (Property Master) and his wife Vickie. The Helen Keckler Memorial Auction Part I raised enough money to sponsor our rescued "Orange Mustang" for another two years at the Wild Horse Sanctuary in Shingletown, CA. His name "Cachuma Star" reflects the lake (Cachuma) where scenes from Episode #4 "Blue Lights" were filmed near Santa Ynez, CA. Spotlighters attended from Germany and 15 US states. SFC 2008 commemorative T-shirts (royal blue or Irish green, seen here) may still be available.

STARMAN FAMILY-CON 2006 celebrated the premiere of the 1986 STARMAN TV series and twenty years of enjoyment since then. The convention was held September 15-17, 2006 in Santa Monica and Malibu Canyon. It was a great success! All five of the actors (Robert Hays, Chris Barnes, Michael Cavanaugh, Patrick Culliton, Erin Gray) attended, as well as many other members of the crew and staff. Members of SSI attended from Germany (four), England, Canada and 14 US states. Watch for more information (and a few photos) on this site. For details about how to view online photo albums contact Vicki Werkley at the phone number below or by emailing her . Put STARMAN in the subject line so your message won't be deleted as spam. FAMILY-CON 2006, 2004, 2002 and 2000 T-shirts are available! Each convention's shirt features an original design commemorating that specific event and other designations of that particular year (for example: 2000 was the International Year of Global Peace). The blue of the 2006 shirt imprint is closer to the color of the shirt itself. The design depicts the five actors of the series and an image symbolic of each of the 22 episodes. Consider it a trivia quiz! The 4-color 2004 shirt, (light blue, dark blue, white and lime green) can be seen here. The 2002 shirt is sky blue with white and orange print. The 2000 convention shirts are deep midnight blue with the 2000 FAMILY-CON design imprinted in metallic copper (substitute copper for the white lettering and graphics in the image). Contact Vicki Werkley for sizes available, prices and ordering information.

Local and International Gatherings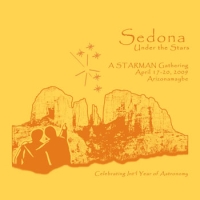 Less formal and usually with fewer people, gatherings are normally held in the odd-numbered years between STARMAN FAMILY-CONs, or at any time when two or more people get together to "Starmanize." There have been scores of gatherings held in different parts of the world.
ARIZONAMAYBE MINI-CON, held April 17-20, 2009. Based in Chandler, AZ and hosted by Jill and George Wells, was simply splendid! Attendees traveled to visit shooting locations in Sedona, where the two "Starscape" episodes were filmed, and to Meteor Crater, seen primarily in the movie but also in "Starscape I." Sorry! Those gorgeous T-shirts (pictured right) were snapped up right away.
STARVIEWING IN IRONWOOD, held August 1-3, 2003 in Grass Valley, CA, was a great success! The con featured shooting sites from Episode 11 - "The Gift." All of the attendees thank Chuck S. for his hospitality. See the report in issue 70.5 of BLUE LIGHTS. A very limited number of the 2003 commemorative T-shirts (pictured here) are available.

For more information contact Vicki Werkley by postal mail, email or phone: